---


---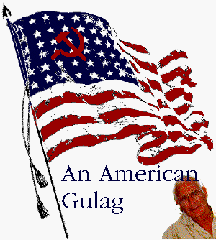 ---
An American
Gulag
The story of Russian immigrant/inventor Sam Zhadanov, who went to prison and lost his assets for manufacturing plastic vials that could be used as drug containers.
---

January 2nd, 1995
From: Sam Zhadanov
Explanation of Hunger Strike

I am enclosing this letter to explain why I am taking action, that may cost me my life, by declaring a hunger strike.

For the last year, while in Federal Prison Camp for non violent offenders, I have been surrounded by many people, among them doctors, lawyers, publishers, professionals and intellectuals, mostly first time offenders, who are in many ways victums like myself.

Many of them are guilty of violations, not crimes. Yet some of them are serving prison terms of up to 15 years. That's longer than served by many murderers and rapists!

They are among a rapidly growing number of victums of the New Federal Business Enterprise, the likes of which this country has never seen. Its bureaucrats use their enormous, unlimited power to accuse and convict thousands of innocent people, so that they can be stripped of their property and savings. Forfeiture is a lot more popular than taxation, that's why politicians look the other way.

With endless resources behind them, Federal proscutors terrorize most into submission and acceptance of guilt. We are turning into a new type of totalitarian state and we don't even know it. Most Americans are unaware of the growing threat to their freedom and property.

It is time to sound the alarm, to bring this horror story to the attention of the American public.

For much of my life I endured the oppression of the former Soviet Union. Now I am reliving the experience in my new home where I came in search of Justice and Liberty. With what had happened to me and what I've learned, I cannot remain silent.

I am declaring this hunger strike to take a stand against corruption and injustice towards me, my family and hundreds of thousands of Americans that cannot be heard.

I ask you to help me bring my story to your readers, listeners or viewers. What happened to me can easily happen to them and their children.

Sincerely,

Sam Zhadanov

Enclosure: Declaration of Hunger Strike and Summary of Facts.

---
DECLARATION OF HUNGER STRIKE
January 2nd, 1996

FROM: SAM ZHADANOV, REG #42489-053
ALLENWOOD FEDERAL PRISON CAMP
MONTGOMERY, PENNSYLVANIA 17752

On Thursday, January 18, 1996, I will begin a peaceful hunger strike to protest the corruption, abuse of power and denial of my human rights by prosecutors Pamela Foa and Paul L. Gray, assistant United States Attorneys for Eastern District of Pennsylvania, their agents and my former attorney Peter Ginsberg of the law firm of Gold and Wachtel.

I DECLARE this hunger strike in support of my motion to grant me my constitutional right; a jury trial which I never had. I was convicted and sent to Federal Prison for 5 years without a trial. because of illegally obtained guilty plea agreement and a secret pact between prosecutors and my lawyer.

During my case, prosecutors uncovered my attorney's financial manipulation and seized his legal fees. During a secret meeting between my lawyer and prosecutors held on April 12, 1994, it was agreed that these funds would be released to my attorney by prosecutors at their discretion, at the conclusion of the case.

Of course, I knew nothing about this arrangement: A prosecutor and an ex-prosecutor teamed up to dispose of the victim and divide the spoils of their business arrangement. A lions share, close to $1,500,000, all of my family's savings and property, was taken by prosecutors and a bone thrown to hyena-lawyer for selling our his client: he would receive his legal fees and avoid possible prosecution.

Here is an example of my attorney's cooperation with prosecutors:

Normally, pre-sentencing reports from probation and prosecutors offices are submitted days in advance with copies to be provided to the defendent for review and response. In my case, these reports were secretely sealed and handed to my lawyer in the courtroom just minutes before my sentencing.

These documents contained wild distortions and lies that could have been easily disputed, if only addressed. However, my lawyer did not even ask for an opportunity to prepare a response. Instead, he not only chose to ignore these severely damaging reports, but decided to hide their existance from me.

He knew that such disclosure would intervene with the "smooth" and non-confrontational sentencing, the last requirement for the release of his legal fees. Putting up resistance would, at the very least, antagonize prosecutors and jeopardize the release of these funds.

I learned of the existance of these presentencing reports a year later while reviewing case documents. At the conclusion of the case, my lawyer did everything possible to obstruct my efforts to file an appeal and reopen the case.

Is this justice?

Because of corrupt prosecutors and a greedy, unethical attorney, I have to spend the last productive years of my life in prison, forfeit my life's work, bring poverty and suffering to my family and cause the irreversible decline in the health of my 89 year old mother.

I DECLARE myself innocent of crimes, fabricated by Federal Agents and charged to me!

I DECLARE myself a victim of Government terror and abuse!

The incredible truth about my case, exposing how the governemt framed me with crimes I did not commit, is hidden in the prosecutors files and sealed court documents. Nevertheless, I was able to obtain documents that prove my allegations beyond a shadow of a doubt.

For the past year, here in prison, I have been trying to bring the truth to the attention of authorities. Each time, my requests have fallen on deaf ears. Authorities did everything possible to sweep my case under the rug, because they are afraid of the truth coming out.

I have been pushed to the brink of frustration. It seems that the only way an ordinary man, like myself, can bring attention to the justice is to sacrifice his own life. I am 69 years old and I am proud of the life I lived. Now I am prepared to die in the American Federal Prison by starving myself to death.

Presently my health is in very poor condition. When I was imprisoned, authorities ignored my urgent need for the treatment of a serious dental condition. Since then, this untreated condition had rapidly deteriorated. For several months now, I have been living in a state of daily physical torture.

The infection has been eating away the remaining bone tissue in my mouth, causing increasing swelling of the entire face, and spreading upwards towards my brain. I cannot sleep at night from the constant pounding caused by the swelling in my head. In the morning, after a sleepless night, I have difficulty seeing, as my eyes often are closed from the swelling. My mouth is constantly full of blood and chewing food causes excruciating pain.

The seriousness of my condition had been documented and confirmed by the Bureau of Prisons cannot and will not provide this type of specialized treatment. However, government officials have repeatedly denied my requests for outside professional medical treatment, which by their own admission, I desperately need.

I, therefore, declare myself being held in a state of physical torture, I declare this hunger strike to protest the inhuman treatment that I am receiving.

I DEMAND that I am immediately released on bail, so that I could undertake the necessary medical treatment (as government agreed before, I am neither dangerous nor a risk of flight).

I DEMAND an immediate intervention of overseeing government agencies to restore and insure the "Due Process" which was denied me by corrupt prosecutors and lawyers.

I DEMAND that Federal agents are prevented from disposing of my family and business property, which they illegally confiscated, until the outcome of my trial.

I REQUEST an independent inquiry into mind-blowing facts surrounding my case, that not only substantiate my attorney's outrageous misconduct, but point to conspiracy and corruption in Philadelphia US Attorney's office, not excluding the possibility of high level bribes.

My case has been officially named "Belkin's" conspiracy. Yet Henry Belkin, its alleged leader and organizer, is free and in business, while innocent people like myself have been given long prison terms.

Let my suffering and possible death be on the consciousness of those government officials who orchestrated, implemented or allowed these atrocities against me and my family,


Sincerely,


Sam Zhadanov
January 2, 1996
SUMMARY OF FACTS

My name is Sam Zhadanov. I am 69 years old. I am not a criminal. I am a professional engineer/inventor.

For 22 years in the United States I worked my way up from a machinist to chief engineer to the head of my own manufacturing company. Hundreds of thousands of people today benefit from my inventions in the medical device and consumer product fields. My recently developed medical devices were on the brink of becoming new life saving products in the fight against AIDS.

All of that work has been destoryed. People that were employed at my business were thrown on the street. Tools of my trade, my equipment, materials, facilities, bank accounts, as well as all of my family's real estate property and lifetime savings, even savings of my 89 year old mother...everything that was earned in a lifelong struggle of hard labor was confiscated by the United States Government.

My ideas, my patents, my mind, my productive energy were put away, hidden behind prison walls. Prosecutors have demostrated to me how a family or ordinary engineers, defenseless people without political connections or teams of lawyers can be crushed and erased by the might of the United States Government.

The "Crime" that was assigned to me was that I manufactured small plastic containers. In 1991 I was approached by two businessmen who brought me a product sample of a small plastic perfume container and told me that I would get the manufacturing contract if the price was right. I developed the technology that enabled us to meet the low cost requirements and I received the job. My customers were selling this product through retail variety stores. As they informed me a year to a year and half later, these plastic containers became popular with store customers to illegal drugs.

Almost from the beginning of this job, government agents placed my factory under surveillance. They parked daily across the street and observed through open building gates how small plastic bottles came out of the machine. For months they watched, while millions of containers were being manufactured, picked up by the customer and sold to the retail system, to be ultimately filled with drugs.

Factory gates were always open allowing unobstructed view of the manufacturing process from the street. It was obvious to agents that people inside are not aware of any illegal nature of their activity, or the illegal use of their product. Yet their plan was not to interrupt. It is unconscionable to imagine that public officials who's job is crime prevention would not alarm the unsuspecting manufacturer.

Yet instead of preventing the crime, their plan was to create the crime and to make it flourish! As case documents show, this case was carefully planted and seeded by Philadelphia US Attorney's office for a period of two years at the cost of millions of taxpayer dollars.

Even when my customers started getting doubts about the legal nature of their product and abandoned its manufacturing and distribution, they were convinced by the planted government informant to renew production and that the product was perfectly legal. This conversation is recorded on tape!

My customers did not share their concerns with me, knowing that I would immedately stop the manufacture of their product. However, changes in their behavior started worrying me. Even though dozens if not hundreds of general retail stores continued to openly carry this product, I decided to be sure, just in case.

I brought samples of the product to my attorney, described my concerns and asked for a legal opinion. The legal opinion letter and verbal assurance made it clear that I had nothing to worry about. As I recently found out, even the Congressional definition of Drug Paraphernalia does not include packaging materials or plastic containers. Federal Appeals Courts have ruled repeatedly that manufacturing of items like "crack vials"are perfectly legal.

This information gave me a new understanding of what was done to me and my family: US Attorneys office fabricated a crack vial case and decided to turn it into a major drug conspiracy. I was chosen to take the fall knowing that manufacturing of plastic containers is not a crime, they decided to charged me with the drug conspiracy to distribute 10 tons of crack cocaine.

Since my factory, over a period of 3 years, prouduced plastic containers with a total volume capable of containing 10 tons of crack powder, I would be guilty of conspiracy to distribute 10 tons of crack, punishable by 10 years to life.

Payments received for my work constituted money laundering punishable by up to 20 years of imprisonment.

From a plastic manufacturer contracted to make plastic products, they've turned me into a drug dealer.

Under threats against members of my family, with no money to fight, after seizing every penny I had and destorying my business by scaring away all my customers, Federal proscecutors started pressuring me to give up fighting and plead guilty in exchange for a very light sentence and an opportunity to save my business. If I didn't agree, they threatened to put me in jail the rest of my life and go after the rest of my family.

According to my lawyer, I had no resources to mount a successful defense. I did not know at the time that my lawyer, recently a Federal prosecutor himself, had alternate reasons for closing this case this way. I later found out that while he continued to represent me, his legal fees were under the control of the prosecutors to be released under certain conditions.

Prosecutors and my attorney skillfully coerced me into signing the guilty plea agreement, which I never even read. I placed my life into the hands of people who betrayed my trust and used my lack of competence in these matters foreign to me. This happened one week before my trial was scheduled to start.

During sentencing, prosecutors attacked me with distortions and lies, but my lawyer abandoned me and did not rebut a single statement. I received a sentence of 5 years imprisonment to be followed by 5 years of supervised release.

I have been in prison for almost a year. but they have not broken my spirit. I know that I am innocent and I have not given up the hope that justice will prevail. I am now fighting for the chance to have a FAIR TRIAL. If such chance is given me and I cannot get a lawyer to defend me, I will represent myself. I intend to prove my innocence and expose the documented conspiracy, corruption and criminal conduct by Federal prosecutors.

22 years ago I brought my family to America from the despotic regime of the Soviet Union in search of Freedom and Justice. I am now prepared to die as a decendent in the America "Gulag" for that Freedom and Justice.


Sincerely,

Sam Zhadanov
---

ther documents

How to order Eli Zhadanov tape, by FEAR Board member John Paff, FEAR-List Bulletin 1/26/96


Sam Zhadanov hospitalized, by FEAR Board member John Paff, FEAR-List Bulletin 1/19/96


Contacts to help Sam Zhadanov, by FEAR Board member Kathy Bergman, FEAR-List Bulletin 1/19/96


"Filling Our Jails With Dangerous EntrepeneursFEAR-List Bulletin 1/15/96, reprinting 7/21/95 article by Vin Suprynowicz, from his syndicated column, The Libertarian (discusses victim stories of Gary and Joanne Tucker and Sam Zhadanov)

---

---